"Foot of the Mountain"
Situated in the foothills of the Italian Alps is arguably Italy's most prestigious wine region: Piemonte.
Not only are Piemonte (or Piedmont) wines widely regarded as some of the finest in Italy– and in some cases, the world– they are made almost exclusively with indigenous grapes known to thrive only IN Piedmont by some of the oldest and most renown wine making families in Italy. The resulting wines have as clear a sense of place as in any part of Italy and even Piedmont's northern neighbors, France.
What Makes Piedmont, Piedmont?
Like so much of Northern Italy, Piedmont is influenced by its closest European neighbors, specifically France and Austria. It is situated with mountains always at the very least on the horizon and 75% of the region is covered in hills or more.
It's a more educated and financially stable region compared to the rest of Italy, especially the south. And when one thinks of authentic Italian food (not American-Italian food), lighter dishes served in several courses come to mind, but Piemontese food skews heartier, meatier, and butterier. Think big cuts of roast meat with grilled polenta or creamy risotto used as a foil and white Alba truffles generously shaved on top of, well, anything.
The wines of Piedmont reflect these influences. More so than anywhere else in Italy (though not an absolute), wines are made with an single indigenous varietal attached to a small, specific area of production. These wines can range from slightly sweet, low-alcohol sparklers to be consumed immediately (like Moscato d'Asti) to big, tannic "tar and roses" Barolo, which won't see the light of day till a minimum of three years after harvest.
Finally, while there are ancient methods and philosophies of wine making at work here, Piedmont is constantly evolving. Moscato wines are continuing to shed a reputation for quantity over quality, and Barolo and Barbaresco are being made to suit modern tastes, no longer requiring several years of tannin-mellowing cellar time before being drunk. Furthermore, continued refining of Piedmont's classifications of single vineyard sites push the region into the discussion of world class terroir alongside Bordeaux and Burgundy in France.
The Wines of Piemonte
Sparkling and White
Moscato and Asti
Any discussion of Italian sparkling wine would be invalid without talking about Asti. Coming in two forms, Asti Spumante (often simply, "Asti") and Moscato d'Asti, these sparkling and semi-sparkling (respectively) off-dry wines are very low in alcohol, big on fruit, and always high in popularity. Made exclusively from the Moscato grape, these wines are perfect as a light aperitivo with fatty cured meats and cheese or as a dessert pairing with fruit and nutty pastries.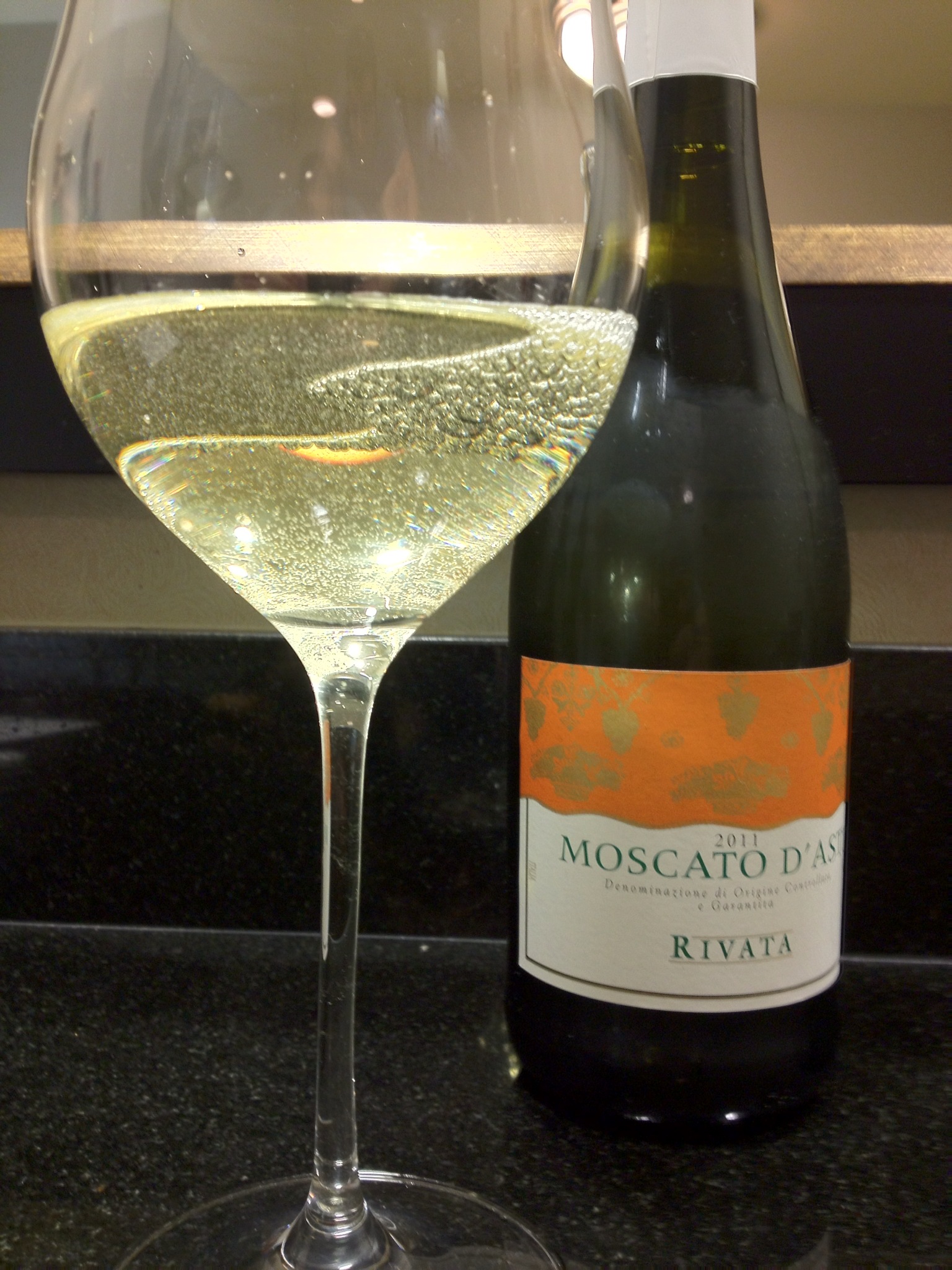 While Asti itself has had to overcome a couple of generations whose idea of the wine was the badly made, cheap commercial fizz exported en masse immediately following World War II. Moscato d'Asti, a DOCG wine region since the 70s, has always been the more prestigious cousin. Both, however, have seen a huge growth in popularity in the United States among young drinkers, in part thanks to Moscato's price compared to Champagne. Another interesting factor has been the fallout from the managing director of the Louis Roederer Champagne house taking an elitist (and public) stance on rappers promoting their product in songs. After declaring "we forbid people from buying it" regarding Cristal's place in club culture, rapper Jay-Z called for a boycott and now "Moscato" is the sparkling wine of choice in the American hip-hop community.
Brachetto d'Acqui
One of the more unique DOCG wines of Northern Italy is Brachetto d'Acqui. It is a semi-sweet, semi-sparkling (or "frizzante") red wine from Acqui Terme, southeast of Asti. It is made from 100% Brachetto, which is naturally sweet, and after 2 days of maceration with the must produces a uniquely aromatic, low alcohol (5.5% ABV) wine reminiscent of roses and red berry fruit with a slight foam. This wine is great as an aperitivo or with fruit desserts and chocolate.
Arneis and Gavi
Apart from Moscato, Piedmont is always thought of for its reds. However, some of the best whites in Italy are made here as well. Before the rise in quality of Friulian whites in the 1980s, Gavi, a crisp bone-dry wine made from Cortese around the village of the same name, was considered by many to be the finest white wine in all of Italy. It has a citrusy minerally taste with a hint of almond on the finish that pairs well with seafood, which is appropriate given its relatively close proximity to the Ligurian border and Italian riviera to the south.
Further into Piedmont near the hub of wine making activity around the towns of Alba and Asti, the Arneis grape is made into a dry white that is also popular for seafood but is fuller bodied, with notable flavors of pear and apricot. Arneis is planted in a few places, but is a DOC and DOCG wine in the Langhe and Roero areas, respectively. The word Arneis will typically be on the label alongside Langhe or Roero, as both sub-regions also make Nebbiolo wines that are labeled simply "Roero" at times.
The Reds of Piemonte
The Everyday Wines of Piedmont
While Piedmont is rightfully known for Barolo and Barbaresco, the Piemontese don't drink these wines on daily basis. The honor of accompanying most locals' dinners goes to wines from Barbera, Dolcetto, and the less expensive and labor-intensive cousin of Barolo and Barbaresco– Nebbiolo D'Alba.
Dolcetto: The name for the "Dolcetto" grape is something of a misnomer, as it translates to "little sweet one." In reality, Dolcetto, though light-bodied and easy-to-drink, is dry and can have a lightly tannic, bitter edge. More fruit-forward varieties are made, as well as DOCG sub-regions (Dogliani, Diano d'Alba) and several "Superiore" DOC designations for one year of aging. For the Italian palate, which is used to some bitterness, it makes a perfect aperitivo red wine for pizza and pasta, with flavors of black cherry and licorice. Dolcetto is meant to be drunk young, which makes it a perfect "cash flow" wine for Barolo and Barbaresco producers aging their Nebbiolo juice for at least another year or two.
Barbera: In terms of value, especially for the average wine drinker in Piedmont, there may be no better wine in Piedmont than those of the Barbera grape. Like Dolcetto, Barbera is a grape that is easier to grow than Nebbiolo that produces dry, light-bodied wine to be drunk young in most cases. Unlike Dolcetto, and despite its light body, Barbera is a juicy, fruit-forward wine with very little tannin and mouthwatering acidity, which make it a perfect compliment to almost any meal.
Barbera is the most widely planted grape in Piedmont, and the wines could be considered the Northern equivalent of what Chianti is to Tuscany.
The two Barbera wines that are typically seen in the United States are from an Asti DOCG and Alba DOC. If there was such a thing as "Barbera Classico," it would be from the one of the warmest areas of Asti around the town of Nizza where Barbera can sufficiently ripen to match its levels of acidity. On the other hand, Barbera from Alba tends to play second fiddle to plantings of Nebbiolo (intended for Barolo), leaving it lower on the totem pole in terms of quality and quantity, but nonetheless a solid everyday wine.
Nebbiolo d'Alba: While not known to come close to rivaling Barolo and Barbaresco, Nebbiolo d'Alba is a DOC red also made from Nebbiolo which can be enjoyed on a daily basis. Like its royal family members, Nebbiolo d'Alba possesses some of the tannic, tar and roses attributes, but comes from areas with sandy soil that ultimately produces a softer expression of the grape. According to DOC rules, the wine must be aged for one year, so it's not as quick to market as Dolcetto and Barbera.
Barolo and Barbaresco: "King and Queen of Italian Wine"
Barolo
Eventually, all discussions of Piedmont wine have to arrive at Barolo and Barbaresco. When four top wine regions were first registered as DOCG in 1980, Barolo and Barbaresco were two (along with Chianti Classico and Brunello di Montalcino, from Tuscany). Both wines are made from 100% Nebbiolo that must be aged several years before release, with 38 and 24 months aging required for Barolo and Barbaresco, respectively (half that time must be spent in oak barrels for both), and both wines have significant aging potential thanks to lots of tannin from the grapes and wood. Though only 3% of Piedmont's annual production are labeled Barolo and Barbaresco, the region would be infinitely less renowned without them.
Barolo, or the King of Wines as it's sometimes called, is rusty tinted dry red wine with a big body, notorious tannins, and a famous aroma of tar and roses. It's also the name of a small part of Piedmont where tricky Nebbiolo has the best conditions of anywhere in the world to grow. The history the wine is a long one. Prior to the mid-1800s, "Barolo" was a sweet wine, thanks to the late-ripening nature of Nebbiolo and less-than-advanced wine making techniques at the time. The cold of fall and winter would set in and halt fermentation with too much leftover residual sugar. Eventually, wine making in Piedmont caught up and the Nebbiolo was able to be made into the dry we know today. It immediately became a favorite of the local nobility in Torino (or Turin), giving rise to Barolo being called "the wine of kings, the king of wines."
Barolo remained a traditional wine made with traditional methods for 100 years, until tastes changed in favor of less tannic wines consumable at a younger age. Barolo had been considered too young to drink until at least ten years after being made. Obviously, this leads to a lot of waiting and not a lot of drinking, which no one likes. Thankfully, famous Barolo producers came up with faster, more effective ways of extracting flavors from fully ripe Nebbiolo without as many harsh tannins, and the use of small oak barriques helped to soften the wines. Today's Barolos can be aged with the best of the Premiere Cru wines of France but can also be drunk in their youth much  more than in decades past.
Cru's, Communes, and Single-Vineyard Prestige
All those decades of working with Nebbiolo, a finicky, thin-skinned, and slow-ripening grape, led to producers identifying which areas of Barolo were best for growing. There are 11 communes (or villages) within Barolo, but five are particularly important to modern interpretations of the wine: La Morra, Barolo, Castiglione Falletto, Serralunga d'Alba, and Monforte d'Alba. Before the 1970s, Barolo was mostly made by blending Nebbiolo grapes from these communes based on the attributes that had come to be known from each. Now, wine makers in Barolo make many more single-vineyard wines from one of these communes, which provides an expression of that area of Barolo, much like the French do in the Crus of Bordeaux and Burgundy.
It would take a long time to break down the even these five "Crus" of Barolo, but they are generally separated into two groups based broadly on their terroir. The Tortonian soil of La Morra and Barolo is comprised of calcarous marl mixed with sand, is fertile and produces rounder, elegant and perfumed Barolos that are quicker to mature. On the other hand, Serralunga and Monforte d'Alba and Castiglione Falletto come from Helvetian soil that is less fertile with more sandstone and limestone, which produces bold, intense Barolos that are more age-worthy.
In the late 1970s, famed Barolo producer Renato Ratti completed an extensive study of the soils of Barolo and identified 10 vineyards to be considered "grand crus." Though not officially recognized by any governing body, the classifications have been respected by winemakers (and BUYERS) and have helped to further detail the unique environments of Barolo. These vineyards include "Cannubi," "Rocche," "Monprivato," and "Brunate," among others.
Of course none of these descriptions are absolutes, and there are plenty of Barolos that are still blended with Nebbiolo from multiple regions.
Barbaresco: the Queen to Barolo's King
Barolo and Barbaresco are very similar wines in a lot of ways. They are tannic but retain a lot of acidity, have ruby, brick, and rust colors, and have complex flavors that always come back to the "tar and roses" reputation.
However, Barbaresco will always be the more "feminine" wine. Made from Nebbiolo in an area Northeast of Barolo on the other side of Alba, the weather is slightly warmer and the soil a little softer, leading to faster-ripening Nebbiolo and less tannins in the resulting wine. The adage in Piedmont is "softer soil, softer wine," which is especially true when differentiating Barolo and Barbaresco, as well as within the various communes of both.
Additionally, Barolo requires 38 months of aging (18 of those in oak), while Barbaresco only requires 24 total and 12 in oak. Both can earn a "Riserva" designation with an extra two years in oak.